or
owners manual Toyota RAV4
owners manual Toyota RAV4 - year of production: 2005, 2006, 2007, 2008, 2009, 2010, 2011, 2012 - Toyota RAV4 III 3 instrukcja obslugi PL
text version of content this owner's manual page
from owners manual to the vehicle Toyota RAV4, year of production 2005 - 2012
:
INDEKS 447 Uruchamianie silnika z obcego WyÊwietlacz temperatury zewn´trznej 182 êród∏a pràdu 355WyÊwietlacz wielofunkcyjny 176 Wwarunkach zimowych 328 Uwagi dotyczàce baga˝nika dachowego. 321Z Uwagi dotyczàce jazdy terenowej. 339 Uwagi dotyczàce jazdy w zimie 340Zabezpieczenie antykorozyjne 382 Uwagi dotyczàce konstrukcji samochoduZabezpieczenie przed kradzie˝à u˝ytkowego. 304Blokada kierownicy. 42, 204, 330, 333 Uwagi dotyczàce podró˝y Zaczepy do stabilizacji baga˝u. 294 zagranicznych. 308Zaczepy siatki stabilizujàcej baga˝. 299 Uwagi dotyczàce regulacji przednich Zag∏ówki 85 foteli. 71Zalecenia dotyczàce aluminiowych Uwagi dotyczàce siedzeƒ tylnych. 74tarcz kó∏. 414 Uzupe∏nianie p∏ynu do spryskiwaczy 422Zalecenia dotyczàce jazdy U˝ytkowanie pojazdu w warunkach U˝ywanie automatycznej skrzyni zimowych340biegów. 206 U˝ywanie mechanicznej skrzyni W biegów. 209 Wterenie. 339 Widok Wskazówki praktyczne 328 Komora silnika. 394Zalecenia dotyczàce uk∏adu Wieszak na torby 294wydechowego. 312 Wskazówki praktyczne dotyczàce Zalecenia dotyczàce wy∏àczania silnika jazdy 206, 209wyposa˝onego w turbospr´˝ark´. 336 Wskaênik poziomu paliwa. 174Zalecenia dotyczàce za∏adunku baga˝u. 320 Wskaênik temperatury silnika. 174Zamocowanie przedniego zaczepu Wspomaganie kierownicy. 319holowniczego 377 Wsteczne lusterka Zapalniczka. 285 Automatycznie przyciemniane Zap∏on, wy∏àcznik 204, 205 wewn´trzne lusterko wsteczne . 153Zas∏ona baga˝nika 295 PrzeciwoÊlepieniowe wewn´trzne Zatrzask pomocniczy, pokrywa silnika 58 lusterko wsteczne 152Zawieszenie i podwozie 325 Regulacja elektryczna. 151Zdalne sterowanie. 31 Sk∏adanie. 152Zegar. 285 Zewn´trzne 150Zmieniacza p∏yt kompaktowych 232 Wycieraczka i spryskiwacz szyby tylnej, Zu˝ycie oleju silnikowego. 313 prze∏àcznik 170 Wycieraczki i spryskiwacze szyby ˚ przedniej, prze∏àcznik . 167, 168 Wy∏àcznik ˚arówki 422 Ogrzewania szyby tylnej . 172Kierunkowskazy boczne 426 Ogrzewania zewn´trznych lusterek Kierunkowskazy przednie 425 wstecznych 172Kierunkowskazy tylne 427 Poduszki powietrznej pasa˝era. 120OÊwietlenie tablicy rejestracyjnej 428 Przednich Êwiate∏ przeciwmgielnych. 162Reflektory 423 Silnika 205Âwiat∏a cofania 427 Âwiate∏ awaryjnych 161Âwiat∏a pozycyjne przednie. 425 Âwiat∏a przeciwmgielnego Âwiat∏a przeciwmgielne przednie 426 tylnego. 162, 163Âwiat∏a przeciwmgielne tylne 427 Tylnego Êwiat∏a przeciwmgielnego 163˚arówki, wymiana. 422 Zap∏onu. 204,205 Zmywaczy reflektorów. 171 Wy∏àcznik poduszki powietrznej pasa˝era. 120 Wy∏àcznik zap∏onu 204, 205 Wy∏àczniki podgrzewania siedzeƒ 86

Download PDF
Click here to download a pdf file with an instruction manual for Toyota RAV4
year of production from: 2005

Do you prefer pdf format?
Find out how to download
Enter the code to download PDF file:
All pages in one PDF file!

How to get the code?
It's very simple! Just pay through a secure PayPal payment.
It will take no longer than a few minutes.
You will receive the code immediately after payment.
The code will be displayed on the screen and will be sent to you by e-mail address.

---
: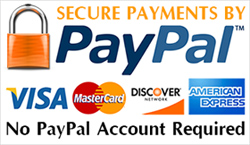 Toyota RAV4 III 3 instrukcja
pages 455 - 458
Toyota RAV4 III 3 instrukcja
page 458 / 458
this site is maintained by advertising - for view instructions, turn off ad blocking in your browser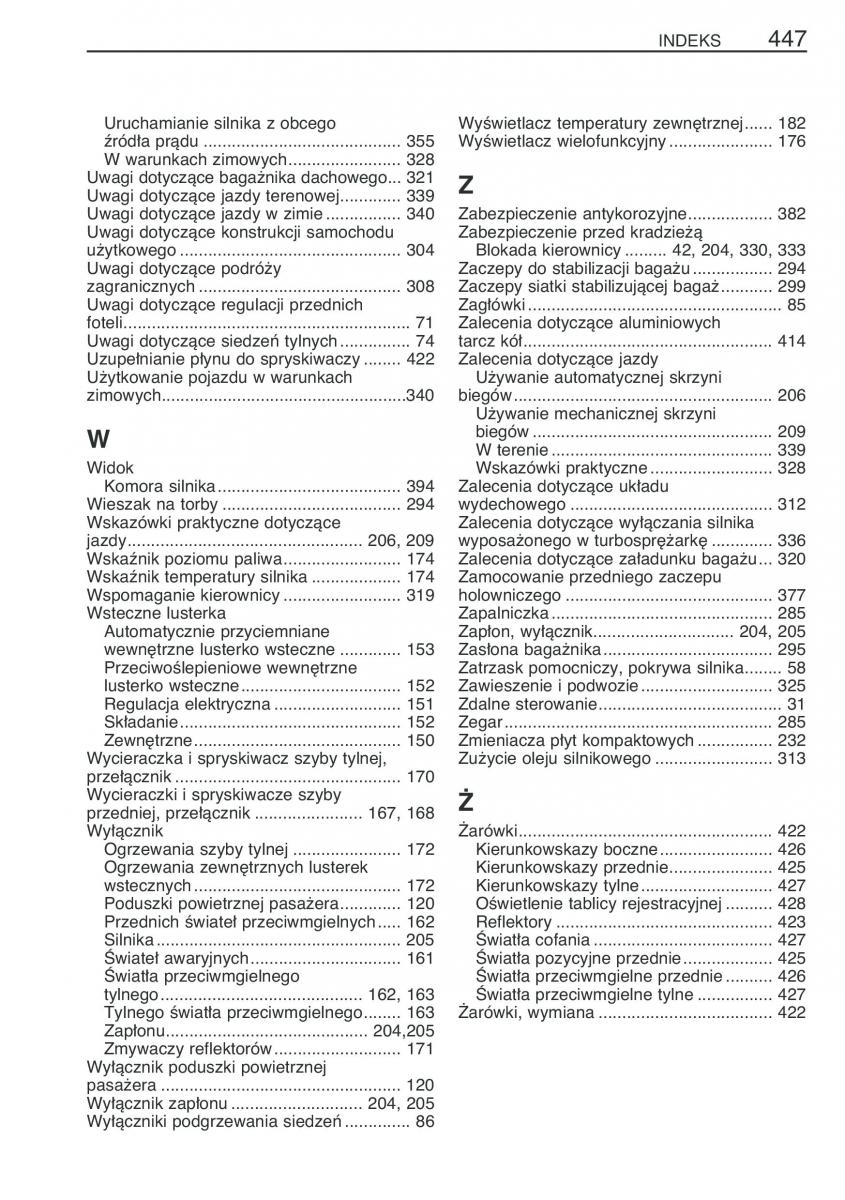 Download PDF
Other available language versions of this manual:
Toyota RAV4 III 3 owners manual EN

show the owner's manual