or
owners manual Jeep Compass
owners manual Jeep Compass - year of production: 2017 - Jeep Compass II 2 omistajan kasikirja FI
Document:
pdf
(5.99 MB) 356 pages
all ratings: 0
average rating: 5
text version of content this owner's manual page
from owners manual to the vehicle Jeep Compass, year of production 2017
:
KÄYTTÖOPPAAN jota voi käyttää apuna lukujen järjestykseentely voi johtaa onnettomuuteen, ajoneuvon KÄYTTÄMINEN ja kaistaleiden symboleihin tutustumisessa.kaatumiseen ja vakavaan vammaan tai hen- Kunkin parillisen sivun reunassa on kuiten-genvaaraan. Aja varovaisesti. ÄMINENTärkeitätietoja kin ilmaistu tekstinä kyseisen luvun nimi. YTTAutoa koskevat suuntaohjeet (vasen/oikea taiMerkit eteenpäin/taaksepäin) on aina käsitettäväJoissakin ajoneuvon komponenteissa on vä- KÄkuljettajan istuimella istuvaa henkilöä koske-rilliset tarrat, joissa olevat merkit ilmaisevat viksi. Tästä säännöstä poikkeavat erityistapa-kyseistä komponenttia käytettäessä huomi- ukset on ilmoitettu tekstissä selkeästi.oon otettavia asioita. AANKäyttöoppaassa olevat kuvat on tarkoitettu Kaatumisvaarasta varoittava merkki vain esimerkiksi. Siksi jotkin kuvien yksityis-KAATUMISVAARAKuljettajan ja matkustajien turvavöiden käyt- kohdat eivät vastaa auton todellista raken- tämättä jättäminen on yleinen vakavien ja netta. Maastoautojen kaatumisvaara on huomatta-hengenvaarallisten vammojen syy. Kaatu- YTTÖOPPLisäksi käyttöopasonlaadittukoskemaanau-vasti suurempi kuin muiden ajoneuvotyyp-misonnettomuudessa turvavyötä käyttämät- toja, joissa ohjauspyörä on vasemmalla puo-pien. Tässä ajoneuvossa maavara on suu-tömän henkilön kuoleman riski on merkittä- KÄlella. Siksi on mahdollista, että joidenkinrempi ja painopiste korkeammalla kuinvästi suurempi kuin turvavyön käyttäjän. säätimien sijainti tai rakenne ei ole tarkkamonissa muissa henkilöautoissa. Sen suori-Käytä aina turvavyötä. peilikuva kuvaan nähden autoissa, joissa oh-tuskyky on hyvä erilaisissa maastoissa. Varo- jauspyörä on oikealla puolella.mattomalla ajotyylillä ajoneuvon hallinnanTÄRKEÄTIEDOTUS voi menettää mallista riippumatta. Koska Tarvittavat tiedot sisältävän luvun selvittämi-painopiste on korkealla, tämä ajoneuvo saat-KÄSIKIRJAN TIEDOT ON TARKISTETTU seen voi käyttää apuna tämän käyttöoppaantaakaatuahelpomminkuinmuut,josajoneu-PAINATUKSEN YHTEYDESSÄ. CHRYSLER lopussa olevaa hakemistoa.von hallinta menetetään.VARAA KUITENKIN OIKEUDEN PÄIVITTÄÄ Luvut on nopea tunnistaa kunkin parittomanÄläteejyrkkiäkäännöksiä,äkkinäisiäohjaus-TIETOJA ILMOITTAMATTA SIITÄ ETUKÄ- sivun reunassa olevasta graafisesta kaista-liikkeitä tai vaaranna muulla tavoin ajoneu-TEEN. leesta. Muutaman sivun päässä on selitys,von hallintaa. Ajoneuvon huolimaton käsit- 2

Download PDF
Click here to download a pdf file with an instruction manual for Jeep Compass
year of production from: 2017

Do you prefer pdf format?
Find out how to download
Enter the code to download PDF file:
All pages in one PDF file!

How to get the code?
It's very simple! Just pay through a secure PayPal payment.
It will take no longer than a few minutes.
You will receive the code immediately after payment.
The code will be displayed on the screen and will be sent to you by e-mail address.

---
: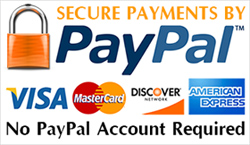 Jeep Compass II 2 omistajan kasikirja
pages 1 - 7
Jeep Compass II 2 omistajan kasikirja
page 4 / 356
this site is maintained by advertising - for view instructions, turn off ad blocking in your browser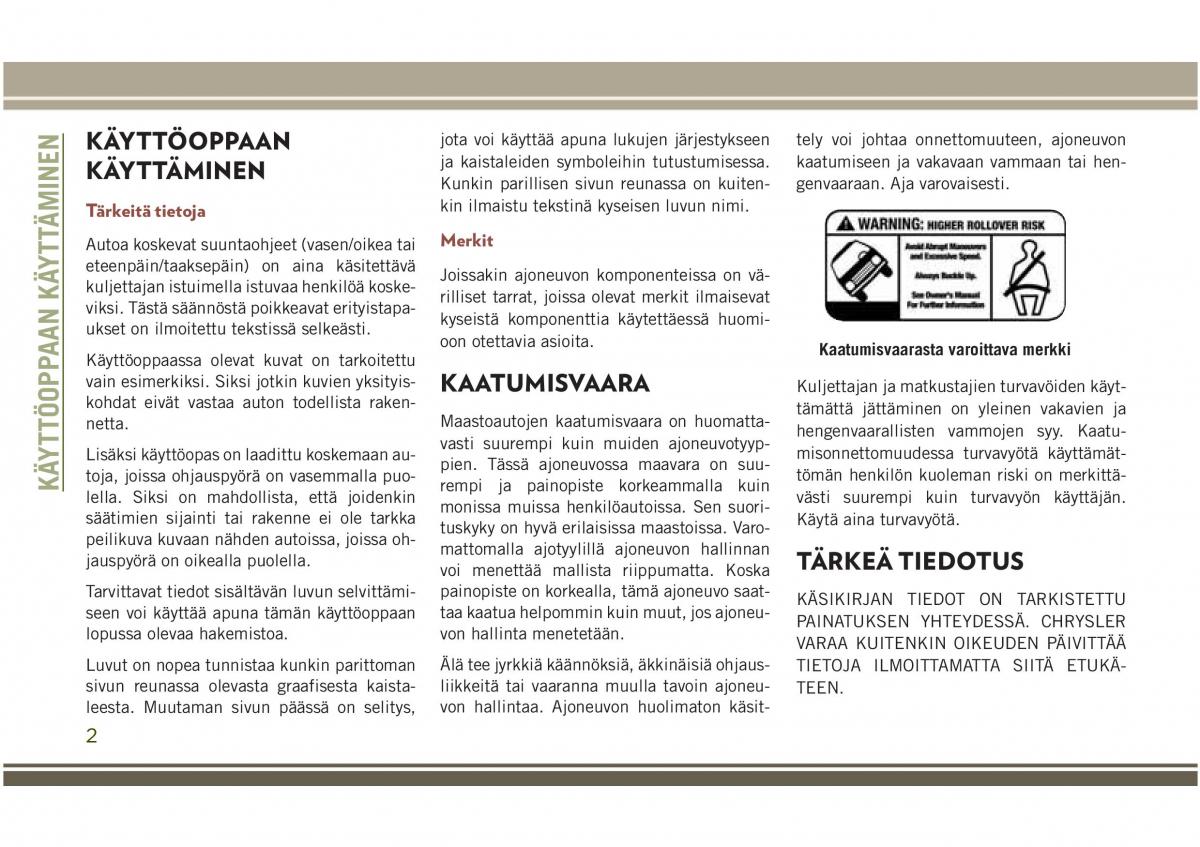 Download PDF
Other available language versions of this manual: